Your baked goods should be fresh, locally-made and delicious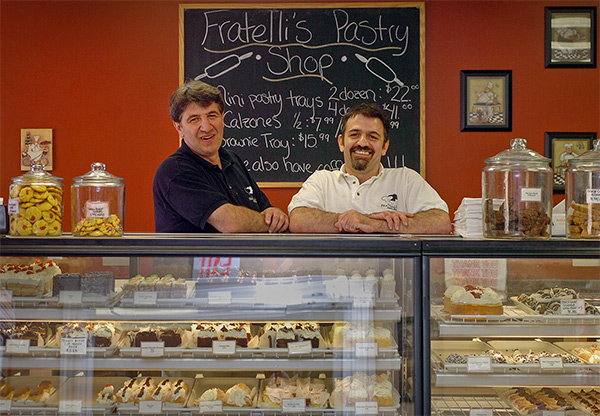 Take two brothers with different last names who lived an ocean apart for a good portion of their lives, the passion to bake and prepare gourmet pastries. The result is Fratelli's Pastry Shop in Quincy, Weymouth, and Taunton.
Owners (and brothers) Giovanni (aka John) Milone and Pino Santarpia have come a long way since 1977, when John was 16 and decided to stay in the United States, while his parents moved back to Turin, Italy, taking his younger brother Pino along with them. Between then and 2005, John worked in two different bakeries building his knowledge and expertise as a pastry chef, until he decided to open his own store alongside Pino, who came back to the United States in 2000.
One day John suggested to his brother Pino that they should open a bakery together. With both of them on board, they quickly found a place in Quincy which had been empty for about two years. The building used to be a taco factory and a popular bowling alley well before that. John and Pino bought the building in March 2005, worked on it non-stop for the next three months, and opened Fratelli's in Quincy in July of that same year.
John and Pino put all their baking knowledge and passion into the store, which had to make a name for itself at the beginning. They worked 15+ hour days with little to no rest and would do it all over again the next day.
Their hard work and dedication was an immediate success and lines were forming to get their signature pastries: Tiramisu, Chocolate Nightmare Tortes, Cannoli, Neapolitans, ricotta pies, and more! Bread is also made fresh daily which is a huge hit and the wedding cake business has quadrupled since opening. Overall, the main focus of the business is on the customers and all Fratelli's employees will go above and beyond to meet your every need.
When Fratelli's opened, the store's only staff members were John, Pino, and one cake decorator. From a team of three working around the clock, Fratelli's has now grown to about 30 full-time and 40 part-time employees working between two locations. (a second Fratelli's opened in Weymouth in 2008.)
The business would probably be even bigger today if not for an adverse circumstance: Shortly before deciding to open Fratelli's, Pino was diagnosed with Multiple Sclerosis. Although news of the disease pushed the brothers to work even harder on opening their own store, it eventually caught up with them, forcing both to slow down. There had been many opportunities to open more stores, but with Pino's condition deteriorating beginning in 2008, they decided to pull back the reins for the time being.
Discovering Pino's condition was actually one of the main reasons the two brothers decided to take a shot at opening Fratelli's. It was also a period of change at White's Pastry in Brockton, where John and Pino worked side by side since 2000. Before joining White's, John had worked for over 10 years at Montilio's Bakery in Quincy.
Pino, however, had never been a baker before 2000 which is when he finally left the fruit-vending business in Turin. Pino and John's mother Anna Maria had unsuccessfully tried to lure her husband into staying in the United States in the late '70s. In order to stay, John had to take his mother's name and stay with her family.
While Pino is now handicapped and no longer works, Fratelli's has and will always take pride in being a family-owned business. The business continues to grow and John and Pino say they can't thank all their supporters/customers enough for getting them to where they're at today. Fratelli's is continuing to grow and expand thanks to you!